January 23, 2017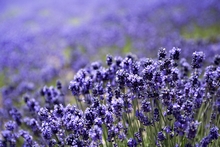 Hello again, Naho here. Sometimes when I get tired from working, I'd just like to sink into an ocean of relaxation. Lavender essence oil comes very handy in this kind of situation, a few drops in the bathtub, or on a steamed towel for facial care , it makes the best cure for stress and fatigue.
Lavender is the floral emblem of Portugal, and, in fact, my personal favorite method of using lavender oil in the bath has been practiced in Portugal for a very long time.
Beloved by Roman People: the Pleasant Aroma of Lavender
The first encounter between lavender and the Portuguese traces back to Ancient Rome. Lavender was known as a type of medicinal herb at the time, and roman people, who enjoyed going to the thermae, loved to add lavenders to their baths to enjoy their pleasant, relaxing aroma. It is also said that the academic name for lavender, "lavandula," comes from "lavare" - Latin for "to wash."
Despite being tolerant of cold weather, lavenders are susceptible to high temperature and humidity. During the rainy season in Japan, constant ventilating is required. Compared to Japan, it is warmer in Portugal throughout the year, and therefore extra care has to be taken. I heard that particularly during the rainy season of March through May, lavenders are carefully cultivated in greenhouses in Portugal.
---
---
---
---
---
---
---
---
---
To Contact Us Regarding Our Translation Services