Key Points for Foreign Patent Filing and Patent Translation
May 30, 2016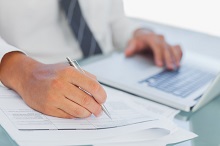 With technologies advancing and corporate activities globalizing on a daily basis, patents are becoming increasingly important in order to protect products and services from being copied and to ensure that they can be sold worldwide.
Filing in foreign countries may be confusing, as it requires not only procedures that differ from domestic filing but also translation into foreign languages. Here we will introduce some basic points for foreign filing and patent translation.
Know the Filing Routes
There are two major routes for filing. One is the Paris route, in which filings are made directly to respective countries in accordance with the Paris Convention. The other is the Patent Cooperation Treaty (PCT) route, in which filings are made collectively in accordance with the PCT.
The Paris route allows you to obtain your patent in a short timeframe. However, documents and translations prepared in accordance with formats designated by each country are required from the initial stages. This means that procedures and translations must be performed in a short period of time. The Paris route is suitable if you already know, at the time of filing in Japan, which countries you want to obtain patents from and if the number of such countries is limited.
On the other hand, in the PCT route, also known as the "international application," performance of specified procedures with your domestic patent office will be considered as filing with the PCT member countries. Applications may be filed in Japanese. You will then go through procedures for entering the national phase, usually within 30 months.
Procedures for filing through the PCT route are easier than those for filing directly with individual countries. In addition to this, because there is time before entering the national phase, this allows for more time to prepare translations and makes it possible to make patentability judgments while tracking the technical trends. Furthermore, if you are undecided at the time of filing as to which countries you want to obtain patents for, you can, for the time being, select all member countries and hold off on that decision until you enter the national phase.
Decisions on which filing route to take need to be made with consideration to the relevant technology and situation. It is advisable to consult a patent attorney, patent office or other specialists.
Keep in Mind that Patent Documents are "Technical Documents + Legal Documents"
Patent translation requires accurate translation of the relevant technology. However, also keep in mind that patent documents are legal documents too. For example, patent specifications not only describe the nature of the technology but also set forth the scope of the patent. Any type of translation work requires accuracy, but this is particularly true for patent documents, which are also legal documents.
Take utmost care when preparing translations, as any errors in numbers or names, omitted translations, or mistranslations may result in you not being able to obtain the patent or, even if you are able to, the scope of patent right may not be accurate. You may be allowed to correct mistranslations in some cases, but it will require work, time and money, so do your best to avoid any mistakes.
Pay Attention to Document Formats and Deadlines
When going through with patent procedures, be sure to check the type and format of required documents and closely manage any deadlines. Any delay in your filings could put you at a disadvantage, and some patent offices will not accept any filings that do not adhere to prescribed deadlines or formats.
Procedures and document formats are subject to change, so make sure to check the most up-to-date information. Also check the deadlines of documents, and if any translations are necessary, when these translations must be completed by in order to meet those deadlines.
Summary
Against the backdrop of rapidly-advancing technology, patents are becoming increasingly important overseas as well. Filing in foreign countries, in particular, requires costs, work and time, as it calls for familiarity with foreign patents, as well as translations. Get a clear idea of which countries and at what timing you want to obtain patents, and decide on how to file. Accurate translations are obviously a must, but also make sure to assess the situation and proceed thorough care by also consulting with a patent attorney, patent firm or other specialists regarding legal aspects.
Related Services
To Contact Us Regarding Our Translation Services
For urgent needs, call:
+81-3-5730-6133