Plum: Taiwan's Floral Emblem with Colorful Meanings
June 5, 2017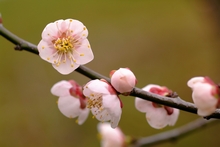 Hello again, Naho here. Just finished my work lunch - plain rice with umeboshi (pickled plum), that's the typical Japanese bento for you!
In fact, the plum flower is Taiwan's floral emblem, and it bears deep meanings to the region as a whole.
Taiwanese Values Hidden Behind the Plum
Plum blossoms usually start in February or March, when it's still very cold in the northern hemisphere . It's also said that the more bitter the weather, the more beautiful the blossoms. Perhaps through the hardy flowers of plum, Taiwanese people saw a soul that perseveres and stays strong against the nature's adversity, and thus made it their floral emblem.
Plums flowers are attributed symbolic value in the island of Taiwan. The five round petals of a plum each represent one of the five branches of the Taiwanese constitution: legislation, administration, justice, examination and inspection.
The concepts of legislation, administration and justice are familiar to Japanese people too, and are also relatively easy to understand. However, we do not often hear of the ideas of examination and inspection. After some research, I found out that these words refer to the region's principle of garnering accomplished resources for the development of the island and putting them under strategic control.
In addition, the three stamens of the flower are considered the symbol of the Three Principles of the People: nationalism, democracy, and welfare. From these we can see that for Taiwanese people, the plum flower carries a deep yearning for peace and security.
A Perfect Mix of Metropolitan Night Views and Nature's Beauty
Taiwan is famous for its colorful, exotic buildings and spectacular night views, ranging from shopping malls to Buddhist memorial halls. It is said that the expression "million dollar night view" was first used to describe Taiwan.
Immerse yourself in Nature's beauty throughout the day, and visit the glamorous streets of the city at night... Such a luxuriously exclusive lifestyle is one of the most unique draws of Taiwan.
A Popular Destination for International Students
In fact, Taiwan is known as a popular destination for international students. Not only does it offer opportunities to learn Chinese, a language that's recently becoming increasingly important, you might also be able to improve your other foreign languages through interacting with Taiwan's many international students coming from outside the English-speaking world.
Related Services
To Contact Us Regarding Our Translation Services
For urgent needs, call:
+81-3-5730-6133