November 6, 2017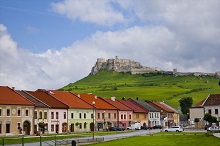 Hello, I'm Yosshi. I entered the translation business two years ago, dreaming of an international career. Since then, every day I keep discovering more about the ever-fascinating world of translation.
I was at a travel agency the other day, and happened to see a page on Slovakia, a country next to the Czech Republic, in one of the tour pamphlets I was looking through. The two countries used to be united as Czechoslovakia, which is how Slovakia came to be called "the Czech Republic's counterpart." I became interested in Slovakia, and decided to do a little research.
Slovakia's Past and Present
Looking at Slovakia's location on the map, I found that it had the Czech Republic to its northwest, Poland to its north, Ukraine to its east, Hungary to its south, and Austria to its southwest. According to the website of the Ministry of Foreign Affairs, Slovakia's land area is one-seventh of that of Japan. This is three-fifths of Hokkaido's land area, so we could say that this is a relatively small country. An article on a website by Shinchosha, called the "Foresight," writes that Czechoslovakia split peacefully into the Czech Republic and Slovakia in 1993, after the fall of the Berlin Wall.
---
---
---
---
---
---
---
---
---
To Contact Us Regarding Our Translation Services