October 31, 2014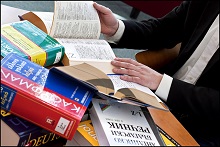 Whether or not descriptions of products or services are correctly translated is a critical issue for a company seeking international sales channels. Since accurate and appropriate translation is indispensable to achieve effective localization, companies need to identify competent translators. Today, we look at the skills that competent translators possess.
1. High Language Skills
Translators are generally considered to have vast knowledge of a foreign language. But that is not the only skill demanded of them. Translators are demanded not just the skill to merely understand a foreign language, but also the skill to understand the deeper meaning of words and to phrase them in an appropriate fashion. This, in other words, is to understand the original text in terms of cultural and conceptual differences and to reconstruct them in the target language.
---
---
---
---
---
---
---
---
---
---
Japanese Translation Agency Arc Communications