December 26, 2016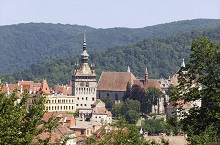 Hello, I am Yosshi. I entered the translating business two years ago, dreaming of an international career. Since then, every day I keep discovering more about the ever-fascinating world of translation.
As a sports fan, the thing that came to mind when I thought of Romania was "Women's Gymnastics". However, as I got to know the country more, I realized that Romania, like the other East European countries, has a long history of domination by foreign powers. Today, in Japan, it is called "Yōroppa saigo no chūsei (Europe's Remnant of the Middle Ages)," and attracts many tourists from all over the world. Besides tourism, Romania has also been growing economically after joining the EU in 2007. There are now increasing business transactions between Romania and the world, and new businesses are popping up within the country as well.
Here are my findings on this country.
---
---
---
Japanese Translation Agency Arc Communications