April 24, 2017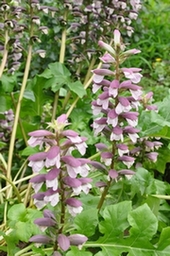 Hello again, Naho here. As it continues to grow hotter each day, summer fatigue is slowly but surely getting to me. Greece's floral emblem Acanthus, however, is an unrelenting flower that always stays strong against high temperature.
Today I would like to write about the land of art and culture, Greece, and some secrets behind its beloved national flower, the Acanthus.
Acanthus: A Symbol of the Arts and Strength
The name of Acanthus originates from "akantha," the Greek word for "thorn," referring to the flower's thorn-bearing bracts.
In ancient Greece, a sculptor named Callimachus used the pattern of acanthus leaves in some of his works, the design was thus named after the flower. Roman architects erected the Corinthian capital employing the "acanthus design," and the pattern is also often seen on church ceiling paintings during the Medieval Period. Perhaps it is from such association to the history of architecture that the acanthus derived the meanings of "the arts" and "craftsmanship."
---
---
---
Japanese Translation Agency Arc Communications