January 26, 2015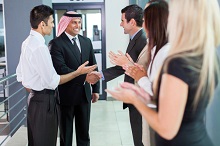 With the advancement of globalization, trade across borders and cultures is rapidly increasing. This trend has brought a major hidden demand: interpreters, the language experts. From the client's point of view, it is not easy to work out what skills the interpreter should have and it may be difficult to ascertain the quality of the interpreter. Let us therefore outline the criteria for selecting an ideal interpreting company and the necessary qualities an interpreter should have.
Language and Communication Experts
It is often said, but let us point out once more that being bilingual and being a good interpreter are two different things. Interpreters not only need to have an excellent sense of language, but also to have the capability to read the situation and translate even the thoughts the client has not been able to voice. Accordingly, you cannot be a good interpreter if you have no communication skills, no matter how good your language skills are.
---
---
---
Japanese Translation Agency Arc Communications