What Makes an Excellent Interpreter in Business Negotiations and Other Business Settings?
January 13, 2015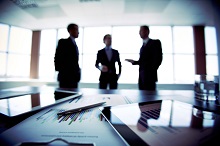 Interpreters play an important role in business negotiations with overseas clients. Interpreters must not only have outstanding language skills, but must also be well versed in business terminology, understand their client's trade and have an accurate grasp of technical terms in both languages. They must also be able to always keep their composure even in situations that are susceptible to various pressures, such as tension, tactics and even breakdown during negotiations. Let's discuss the qualities required in an excellent interpreter in business negotiations and other business settings.
Why is an Interpreter Important in a Business Setting?
Most global businesses are expanding by continuing negotiations with partners from different cultural backgrounds.
The job of the interpreter is to assist with those negotiations. Interpreters not only have a command of both languages, but also understand the project from both perspectives: that of the local business and that of the global business. It is no exaggeration to say that the interpreter is a key person in the global business.
Business Knowledge and Composure
What exactly is the interpreter's role in the first place?
Many people imagine that an interpreter's job is simply repeating things in another language.
However, simply put, interpreting covers a wide range of fields, including medicine, law, agriculture and the military. Interpreters must have a grasp of specialized terms to suit these settings and a good basic background knowledge in these fields.
Consider also that meeting rooms are host to heated debates, with countless opinions and voices on top of each other. Since interpreters cannot simply interpret the opinion of one party only, an excellent interpreter must be able to interpret the opinions of both parties calmly without being swallowed up by the atmosphere of the place.
If an interpreter has the communication skills to deduce the true meaning and intention of both parties in these situations, this makes a huge contribution to the business, thus helping it to be carried out seamlessly.
Summary
In global business settings, interpreters serve as key people who influence the results of negotiations. Being an excellent interpreter takes more than simply having outstanding language skills; it requires a wealth of knowledge and advanced communication skills. Outstanding interpreters that can deduce the true intentions of both parties, convey those intentions appropriately and understand a situation with a level head are the unsung, stalwart pillars of international business.
Related Services
To Contact Us Regarding Our Translation Services
For urgent needs, call:
+81-3-5730-6133