September 4, 2017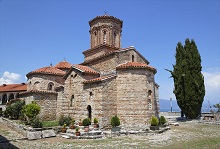 Hello. I am Yucchi, a fledgling translator who transferred last autumn from a different field. I've only just started in translation so I have much to learn, but I'm studying hard with the help of my seniors.
I was drawn to a red and yellow national flag that I found on "Nikkei Business ONLINE," and reading that article, I learned that it was the flag of Macedonia. According to the article, Macedonia was one of the slowest developing countries out of the six republics and two autonomous regions that originated after the disintegration of former Yugoslavia. However, it came in 30th place in the 2015 World Bank's "Doing Business" index, closely following Japan, which placed 29th. I was intrigued by how this country was able to achieve such remarkable growth, and decided to do a little research.
Macedonia's History and How it Achieved Its Present Rate of Growth
Looking at the map, I saw that Macedonia is located in the Balkan peninsula, and is a land-locked country, surrounded by Greece to the south, Bulgaria to the east, Albania to the west, and Serbia and Kosovo to the north. According to the Ministry of Foreign Affairs (MoFA), Macedonia's land mass is two-thirds the size of the Kyushu region in Japan.
Japanese Translation Agency Arc Communications
For urgent needs, call:
+81-3-5730-6133