November 28, 2016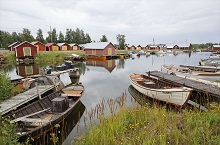 Hi, I'm Yucchi. I just transferred to the translation industry from another business field last fall. Since this is my first time working in the field of translation, I'm constantly learning so many new things each day with the help of my senior co-workers.
I heard that a Moomin theme park was expected to open in Japan, and this news got me interested in the country of Finland―homeland of this popular character. Finland, located in Northern Europe, is also often referred to as the 'Country of Forests and Lakes' and is well known for Santa Claus and the fashionable interior items that they produce. The IT industry is also highly developed as can be seen in world-widely known IT companies such as the once famous Nokia Corporation. In today's blog, I will be introducing some interesting facts about this amazing country.
Finland's Past and Present
According to the Ministry of Foreign Affairs, Finland borders three countries; Sweden to the west, Russia to the east and Norway to the north. The land area of Finland is equivalent to that of Japan. However, the population of the entire country adds up to only the same as that of Hokkaido, which is approximately 5,400,000. This Scandinavian country also has a dramatic history of fighting repeatedly against the invasion of two of its neighboring countries, Russia and Sweden.
---
---
---
Japanese Translation Agency Arc Communications