---
May 22, 2017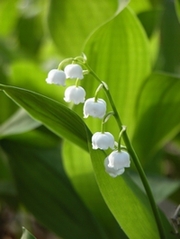 Hello again, Naho here. When autumn comes, my circulation usually gets poorer.
Compared to my sensitivity to cold weather, Sweden's floral emblem lily of the valley is extremely hardy, to which the cutting wind of winter is nothing but a gentle breeze. Today I would like to write about Sweden and its national flower, the lily of the valley, a "tough" flower despite its innocent and fragile looks.
The Difference between European and Asian Lilies of the Valley
The lily of the valley is a flower that's familiar to Japanese people. However, the variation found in Japan is relatively smaller compared to the species native to Europe, which also tends to have a stronger fragrance. Sweden's floral emblem is the latter, also called "doitsu suzuran" ("German bell orchid") in Japanese. As the name suggests, the plant features small bell-shaped white flowers blooming from the ends of its upright stems. Most of the little white blossoms are upside-down, looking like the definition of "innocent".
Lilies of the valley do not cope well with high temperature and humidity, so we need to keep them in a shady environment with good ventilation in the summer. If the leaves suffer damage from the heat, they might not be able to grow fully, thus affecting the flowering in the year to come. The blossoms naturally fall in late autumn, and it is recommended to take extra care of the leaves. That being said, the plant is extremely tolerant of cold, so there's no need to keep it warm in the winter.
---
---
---
Japanese Translation Agency Arc Communications