Frangipani: The Flower of Tropical Islands! Secrets behind Laos' Floral Emblem
May 15, 2017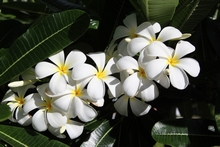 Hello again, Naho here. Mid-summer is around the corner, and I simply can't wait to travel to the southern islands ! For me personally, the flower that has the most tropical feeling has to be the frangipani.
Frangipanis are known as one of the most commonly used flowers in making Hawaiian leis, but in fact, the flower of frangipani is also the floral emblem of Laos.
Laos: A Country of Colorful Frangipanis
The floral emblem of Laos is the frangipani, which is also a pattern often seen in hair accessories, and such. Frangipanis are called "champa" in the Lao language, and a botanic garden located in a suburb of Vientiane (the capital city of Laos) is called the Champa Garden, where one can see plenty of frangipanis in bloom.
Although Laos' floral emblem is officially the variation that's white in color with a tinge of yellow in the middle, frangipanis actually grow in multiple colors such as red, yellow, pink, and even black.
In the aforementioned Champa Garden, there are over 200 types of frangipanis with different shapes and colors. Not only do the locals love to enjoy the view, the garden also attracts a large number of tourists.
A Flower with Associations to Buddhism
The frangipani's association to Buddhism has taken root in Laos a long time ago. Nicknamed the "temple flower," frangipanis are often grown in Buddhist temples. Laos is also a country famous for having a myriad of temples and pagodas standing side by side on the streets.
Known as Laos' national symbol, the That Luang Stupa is one of the main attractions of the country. The Lao people respect it so much that the beautiful silhouette of its pinnacle stretching into the sky is often used in Laos' national emblems. Other than that, there's the Wat Si Saket, considered to be one of the oldest Buddhist temples still standing in Vientiane. Featuring an overwhelming exhibition of around 7,000 Buddha sculptures, it is one of the few historic constructions in Laos that has remained in its original form.
Frangipani as a Perfume Ingredient
Frangipani the flower is more commonly called "Purumeria" (Plumeria) in Japanese. However, when used as a perfume ingredient, it is often referred to as "furanjipani" (Frangipani).
Frangipani essence oils often feature the flower's sweet fragrance, and is said to have a relaxing effect that helps to concentrate. For that reason, frangipani essence oils are very popular in beauty salons and spas.
Of course, there are also plenty of beauty and body treatment salons in Laos, I've even heard that some people, especially women who enjoy travelling overseas, would visit Laos specifically for beauty treatments.
Sounds like a great destination for a girls' weekend away, doesn't it?
Related Services
To Contact Us Regarding Our Translation Services
For urgent needs, call:
+81-3-5730-6133