August 7, 2017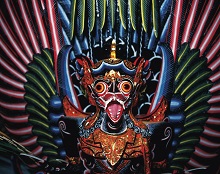 Hello. I am Yucchi, a fledgling translator who transferred last autumn from a different field. I've only just started in translation so I have much to learn, but I'm studying hard with the help of my seniors.
In Japan, the aging population is a big problem. I saw an article the other day that said "the decrease of the population aged 15 to 64, otherwise known as the working-age population, has an impact on the economy." That got me wondering which countries had the largest working-age population, and I learned that Indonesia was attracting attention for its large population as well as its low average age. Here is what I found on Indonesia.
Indonesia, a Vibrant Developing Country with Youthful Energy
According to the website of the Ministry of Foreign Affairs, the land area of Indonesia is five times that of Japan. With 240 million people, its population comes fourth in the world after China, India, and the U.S. Contrary to Japan's seriously declining and aging population, Indonesia's population structure is an ideal pyramid, and has the potential to become an enormous market. According to "DIAMOND online," Indonesia's average age is 28. Compare that with Japan's 44, and you can get an image of how young Indonesia's population is.
"Yappango," an information site on Japanese companies' foreign ventures, explains that having many young people creates an abundant workforce, and can also stimulate an active consumer economy due to life events such as marriage, childbirth and education.
Japanese Translation Agency Arc Communications
For urgent needs, call:
+81-3-5730-6133