March 27, 2017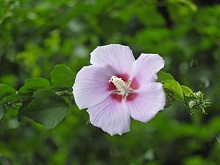 Hello, I'm Yosshi. I entered the translating business two years ago, dreaming of an international career. Since then, every day I keep discovering more about the ever-fascinating world of translation. Recently, after reading a blog post written by my colleague Naho on Malaysia's floral emblem Hibiscus, I developed a strong interest in national flowers.
I walked into a DIY shop the other day and glanced through the plants at the gardening corner. A beautiful yellow flower full of summery charm immediately caught my attention, and I said to myself "this has to be Hibiscus." However, the label on the flower pot read Hibiscus syriacus, a variation I had never heard of. Curiosity drove me to do some research, and I found out that the flower is more commonly known as the rose of Sharon, and also happens to be the floral emblem of South Korea.
South Korea's Floral Emblem: the Rose of Sharon
In Korean, the rose of Sharon is called Mugunghwa (무궁화), meaning "the never-ending flower." According to the website "Sekai no kokka, Nihon no kenka," it derives that name from its long, prolific flowering through persistently producing new growth after blossoms fall. Another website called "Seoul TOUR" gave me a more detailed introduction of the flower. However, it claims that no official record documenting the story of how the rose of Sharon was designated to be South Korea's floral emblem could be found.
---
---
---
Japanese Translation Agency Arc Communications