August 29, 2016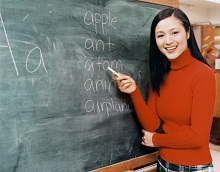 Miscommunications of spellings are a common occurrence when giving information such as e-mail addresses over the phone. With e-mail addresses, misinter-preting just a single letter can lead to a transmission error resulting in your message failing to deliver to the intended recipient. This is a problem that occurs between Jap-anese people also, but how can we deal with it when speaking over the phone in Eng-lish? The spelling alphabet is a means of preventing miscommunications like these when spelling over the phone. Let's master this technique and get rid of our apprehen-sions about phone calls in English!
So what is this method of correctly communicating English letters, the spelling alphabet?
A spelling alphabet is a method of accurately communicating English let-ters in situations where visually checking the proper way of writing something is not an option, such as during conversations over the phone. For example, the spelling of "ARC" is conveyed like "A for Apple, R for Russia, C for China." Even in Japanese, "9" and "Q" have the same pronunciation and a distinction between the two is made using phrases like "the number 9" and "the English Q". The similar-sounding and easily-misheard numbers "1" (ichi) and "7" (shichi) are clarified by using "ichi" and "nana" (an alternative pronunciation of seven) instead.
---
---
---
---
Japanese Translation Agency Arc Communications