February 27, 2017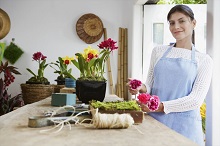 Hello. I am Yucchi, a fledgling translator who transferred last autumn from a different field. After reading my colleague Naho's blog post on Ireland's floral emblem, the Shamrock, I started to develop an interest in national flowers.
The other day, I went to see my first opera, Carmen. I was very moved by how passionate and intense the performances were. The image of Carmen wearing a red flower behind her ear especially left a strong impression. After some research, I found out that it was a carnation, known as Spain's floral emblem.
The Flower Beloved by Spaniards
Freedom of belief is protected by the Spanish constitution, yet according to the official website of the Japanese Ministry of Foreign Affairs, about 75% of Spain's population is Catholic. From what I read on Minnano Hana Zukan (Illustrated Encyclopaedia of Flowers for Everyone), carnations first appeared where Virgin Mary shed tears at Jesus' plight of carrying the Cross, and therefore the flower also symbolizes the great love of a mother. Todos los Santos is the Spanish equivalent of All Saints' Day and the Obon festival in Japan (お盆: celebrating the return of ancestral spirits). On that day, people often bring carnations to the graves of deceased relatives.
---
---
---
Japanese Translation Agency Arc Communications