---
---
September 20, 2016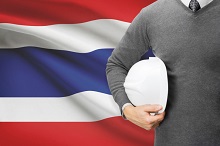 The Kingdom of Thailand (Thailand) is the only country in Southeast Asia which has never been affected by colonisation and a kingdom that has a long, unique, dynastic history. A trading hub between East and West located in the centre of Indochina, Thailand has maintained a unique culture and language while absorbing the influence of India and China. Thailand has friendly relations with Japan, and the number of people who travel to Thailand from Japan on business has been increasing year on year. Due to the limited use of the English language in Thailand, translation and studying the Thai language are crucial to doing business. Here we introduce some features of Thai, a language that is commonly known as a difficult language to learn.
Difficulties of Tones
Difficult tones in the Thai language are strongly influenced by the Chinese language. There are five distinctive tones in Thai, and the key to learning the language is how well one can pronounce them. For pronunciation, it is important to hear the differences in tone. First of all, let's acknowledge the differences as knowledge.
---
---
---
---
Japanese Translation Agency Arc Communications