Developing "Global Human Resources" through Compulsory English Activities in Elementary Schools
September 12, 2016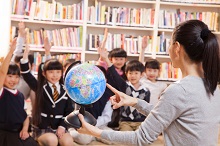 Foreign Language Activities have become compulsory for fifth and sixth grade levels of elementary schools since 2011. In anticipation of the Tokyo Olympics in 2020, English is expected to become one of the subjects in the future. This article discusses how foreign language education in elementary schools may contribute towards developing global human resources.
Foreign Language Activities in elementary schools today
Fifth and sixth graders are currently learning English in Foreign Language Activities every week for an hour based on the Courses of Study introduced since 2011. Although it varies depending on schools and regions, there are a number of cases where English is taught in general learning hours also in other grades. This suggests that the opportunities to be exposed to English have been increasing for many elementary school pupils.
The objective of Foreign Language Activities is to familiarize children with English. Children will acquaint themselves with English through singing songs and playing games. Since the emphasis is on becoming used to the sound, the activities mainly consist of "listening" and "talking." Children will nurture the basic ability to communicate while learning the language and culture. These activities are not a school subject, so there is no assessment and no test; therefore, children can relax and just enjoy an hour with English.
English education for children in Singapore
~Japan may learn from many Asian countries that give high priority to English education. For example, Singapore, which is poor in natural resources, and has an aging population and a declining birth rate like Japan, gives priority to human resource development. The government's attitude towards education is based on the slogan "human resource is our only resource," and their advanced English education system has been successfully nurturing bilingual and trilingual human resources.
Lessons in public elementary schools are all given in English except some subjects such as moral education and history, and pupils are divided into courses according to their abilities. Therefore, children are able to learn in the courses that match their abilities, and they have opportunities to rise to the upper courses if their abilities improve.
Since English is one of the official languages of Singapore; children are exposed to English in many aspects in their lives even outside the schools. For example, road signs are in English, and English is heard naturally in everyday life because of the high foreigner population in Singapore. Also, a creole English called "Singlish" is widely used.
Future of English education in Japan
Although we cannot simply compare English education in Japan and Singapore, there are a lot we can learn from Singapore. For example, one of the reasons of successful English education in Singapore is a lot of exposure to the English language. Children often see and hear foreign languages such as English in their everyday lives, lessons are given in English in schools, and they have plenty of opportunities to deal with foreigners.
While the number of foreigners who visit Japan or live in Japan has increased, most of Japanese people rarely encounter English in their day-to-day lives. What Singapore has achieved cannot be expected instantly in this environment. Therefore, it is an important breakthrough that schools have provided children the opportunities to familiarize themselves with foreign languages, to be exposed to practical expressions, and to discover the pleasure and importance of communication. Even if their English is not perfect, this prepares the base of communication where they talk and listen with a desire "to be understood and to understand."
Also, it is important to provide opportunities where children can learn languages as a means to understand each other without worries about marks and tests. While sound is given priority in English education in elementary schools, "reading" and "writing" take precedence in junior high schools, and English becomes subject to marks and tests. This tends to result in many children's losing interest. In the environment with low exposure to English in the day-to-day life, it is necessary to continue providing foreign language education that teaches children the pleasure and importance of communication.
Summary
Opportunities for children to be exposed to English and other foreign languages have significantly increased through the Internet and television, and more children are becoming interested in foreign languages. Japan's globalization will take a significant step forward by learning how foreign language education should be implemented, in order to retain children's interest, make them realize that foreign languages are not only for tests and marks, and help them discover the pleasure and importance of communication.
Related Services
To Contact Us Regarding Our Translation Services
For urgent needs, call:
+81-3-5730-6133