October 2, 2017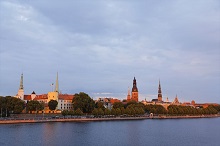 Hello. I am Yucchi, a fledgling translator who transferred last autumn from a different field. I've only just started in translation so I have much to learn, but I'm studying hard with the help of my seniors.
I think there are few people who can identify where exactly Latvia is. To be honest, I couldn't either. So, I would like to briefly introduce Latvia to those who, like myself, are not familiar with this country.
What Kind of Country is Latvia?
Looking at the map on the Ministry of Foreign Affairs website, one can see Latvia located to the south of the Scandinavian peninsula and facing the Baltic Sea, sandwiched between the two other Baltic states, Estonia and Lithuania. It shares borders with Russia and Belarus, and has been occupied by Russia, Sweden, and Poland. It has historically flourished as an important center for trade, and the capital, Riga, is a sister city to Kobe in Japan. The official language is Latvian, but there are many Russian speakers too.
Japanese Translation Agency Arc Communications
For urgent needs, call:
+81-3-5730-6133