October 26, 2015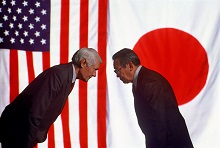 Have you ever wondered how to say "otsukaresama" to your non-Japanese colleagues in English? In addition to "otsukaresama", the Japanese language has a number of unique stock phrases that don't really have an exact translation. Force a translation on these obvious sounding greetings and the original nuance is lost. Let's look at some Japanese expressions that we bandy about in our daily lives without a second thought.
Hard-to-Translate Japanese No.1: "Yoroshiku onegai shimasu"
"Yoroshiku onegai shimasu" is a handy phrase used every day in a variety of situations such as a greeting at a new workplace. See if you can think of a way to say "yoroshiku onegai shimasu" in English. It implies that the speaker wishes to work hard with his/her new colleagues and is ready to be shown the ropes. We might translate this as "I'd appreciate your guidance." But there is no equivalent phrase an English speaker would use in the same situation, so the translation above still seems odd and clunky.
---
---
Japanese Translation Agency Arc Communications