June 26, 2017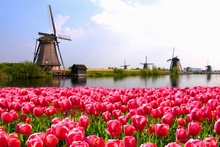 Hello again, Naho here. Recently, apart from practising speaking English, I've started learning about investing.
After some research, I read about the era during which the Dutch were obsessive with investing, and I was astonished to find out that they all had their eyes set on tulip bulbs.
Tulips' Long-lasting Popularity in the Netherlands
It was said that although tulips were native of Turkey, ever since the 16th century when the Turkish king gave some tulip bulbs to a Dutch diplomat, tulips have been widely cultivated across the Netherlands and became their national flower.
At that time, wealthy Dutch gardeners branded themselves florists and were engaged in the breeding of different plants. Easy to grow and pleasant to the eye, tulip flowers soon gained great attention within the gardening industry, and various tulip gardens were established across the country.
---
---
---
Japanese Translation Agency Arc Communications