Are Translation Services Actually Well Known? I Looked Into What Degree of Recognition Translation Services Have
September 26, 2016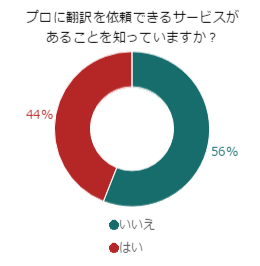 Did you know that there are services that allow you to entrust translations from languages such as English and French to professionals?
These services are essential for doing business or participating in exchange with people abroad. For example, you might have papers translated so that people overseas can also read them, or you might have documents for work translated.
But how many people actually know about such services? I took a survey!
Questiom
Are you aware of the existence of professional translation services?
Number of answers
Yes: 44
No: 56
Over Half of Respondents Were Unaware That Translation Services Exist
The results of the survey were that just over half of respondents were unaware of the existence of translation services.
I had no idea that such services existed, as I've never had the need for them.
I've never looked into them because I've never had any occasion to. But it's not that I don't have any interest.
I never have an occasion to request a translation. But if I ever were to request one, about what would it cost?
I have no idea, so I'd definitely like to know. The fees must be pretty high, right?
Most of these respondents answered by saying that "they had no connection to translation" or that "they had no opportunities to request translations," but it seems that it wasn't the case that they had no interest. Rather, it seems that they weren't even aware that translation services existed.
If You're Going to Request a Translation, It's Best to Go With a Pro! Professional Translation Services Are Indispensable to Business
Those responding "yes" gave the following reasons.
Since I'm in a position where it would be unacceptable to make mistakes, such services are vital in ensuring that our requirements are communicated accurately and without misunderstanding.
I had a professional translation done when our company needed to translate its user's manual. It was expensive.
When I needed to send an e-mail to a foreigner, I once did a search with "translation" as a keyword.
It seems that many of the people who answered "yes" needed translations for work and turned to professionals in order to prevent mistakes and avoid misunderstandings.
With business documents, the number of characters can get very high. And there is no point in spending time preparing a translation if it is going to be full of mistakes. In that case, it would be better to just spend a little money and hire a professional to do it. It seems that this is what many people in the workplace think.
Why So Many People Do Not Know About Translation Services
Among people who don't usually come into contact with foreign languages, many people have never even thought about translation services. No doubt there are people who haven't seen an extended essay in English since their examination days and who assume that they will be able to look English words up in a dictionary if necessary. It seems that a reason translation services are not better known is that many people feel that they have no need to use such services.
However, translation services are in fact helping people in the realm of business and international exchange. It may be that if those with some interest in translation were to look into these services further, they would find that they would be able to expand the scope of their work.
Survey area: Entire country
Survey respondents: Males and females; ages not asked
Survey period: February 10th through February 24th, 2015
Number of valid responses: 100
Related Services
To Contact Us Regarding Our Translation Services
For urgent needs, call:
+81-3-5730-6133