Lotus: Vietnam's Floral Emblem and Buddhism
May 8, 2017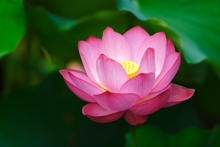 Hello again, Naho here. I tend to read a lot more during summer, and recently I have been enjoying a book that includes a collection of quotes from Buddhism, whose words made me feel calm and relaxed.
As I read on, I learned that the lotus, Vietnam's national flower, is also considered an important symbol in Buddhism. Today I would like to write about the warm meanings Buddha has given the lotus, and some facts about Vietnam. Here we go!
Why Buddha Sits on a Lotus
It is said that the lotus was chosen to be Vietnam's floral emblem because it's highly appreciated among Buddhists, who comprise nearly 70% of the Vietnamese population. The lotus features large, pink petals and bears important messages in Buddhism. Not only is it often depicted as Buddha's seat, the flower also appears in many Buddhist legends as a key symbol.
Lotuses grow in muddy waters, and the thicker the mud, the larger the blossoms. The flower is also well-known for the fact that its beautiful petals are never stained despite the environment it grows in.
Perhaps in the lotus, Buddha saw a beautiful soul that survives the muddy waters of life's pain and misery, and yet remains grateful and pure, unstained of the mind's darkness and distress. Through the flower of lotus, He might have wanted to tell people that life's true importance is gaining the strength to survive.
An Abundance of Gorgeous Buddhist Temples in Vietnam
As a land with such pronounced historic association to Buddhism, Vietnam is home to a large number of Buddhist temples that are visited by people from all over the world.
The Vĩnh Nghiêm Pagoda (literally the "Ever Solemn Pagoda") is particularly famous for the large bell tower that is often seen as a symbol of Japan-Vietnam friendship. Called the "Bell Tower of Peace" in Vietnamese, it features a golden statue of Buddha inside the hall, and all people, regardless of their nationalities or beliefs, are welcome to visit.
The Vietnamese culture is deeply rooted in Buddhism and many say that the Vietnamese are a good-natured and honest people. In recent years, a growing number of Japanese enterprises are said to be hiring Vietnamese nationals as business partners.
English Learning On the Rise in Vietnam
The official language of Vietnam is Vietnamese. Although English translations can be seen on most public signs, the language itself is nowhere near widespread in the country, with only a limited number of people being able to speak it fluently.
That being said, during recent years, many English language schools have emerged in the larger cities of Vietnam, targeting full-time employees. As more and more domestic companies are embracing an English-speaking culture, people in Vietnam are becoming increasingly keen on learning English.
Related Services
To Contact Us Regarding Our Translation Services
For urgent needs, call:
+81-3-5730-6133