What are the Criteria for Selecting an Interpreting Company?
January 26, 2015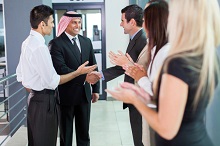 With the advancement of globalization, trade across borders and cultures is rapidly increasing. This trend has brought a major hidden demand: interpreters, the language experts. From the client's point of view, it is not easy to work out what skills the interpreter should have and it may be difficult to ascertain the quality of the interpreter. Let us therefore outline the criteria for selecting an ideal interpreting company and the necessary qualities an interpreter should have.
Language and Communication Experts
It is often said, but let us point out once more that being bilingual and being a good interpreter are two different things. Interpreters not only need to have an excellent sense of language, but also to have the capability to read the situation and translate even the thoughts the client has not been able to voice. Accordingly, you cannot be a good interpreter if you have no communication skills, no matter how good your language skills are.
Understanding Other Cultures in a Business Setting
The communication skills of an interpreter must include the ability to understand other cultures in a business setting. For example, there are significant differences between Western and Asian styles of business. Those of us who value conventions and etiquette may feel completely lost negotiating with business partners from other cultures. In such cases, an interpreter has to fill in the gaps with the appropriate words and help to build relationships smoothly.
Good Interpreters Require Hospitality
What should you look out for when choosing an interpreting company?
First, you need to understand that interpreting is not simply substituting words mechanically.
A good interpreting company will not only provide you with an interpreter appropriate to the type of interpreting, languages you require and other criteria, but will also be committed to providing an attentive service that facilitates hassle-free business and negotiations even in a high-pressure business setting. It is important to have interpreters who utilise their understanding of business and cultural backgrounds in their interpreting rather than translating words in a business-like manner.
It is important to have someone that is like a concierge, able to cover all the various tasks associated with interpreting.
Summary
When choosing an interpreting company, it is important to pay attention to the quality of the interpreting. In order to confidently carry out your business, choosing an interpreting company with highly capable interpreters - even if it costs a little more - will lead to business success in the long run.
Related Services
To Contact Us Regarding Our Translation Services
For urgent needs, call:
+81-3-5730-6133