The Three Attributes Demanded of a Competent Translator
October 31, 2014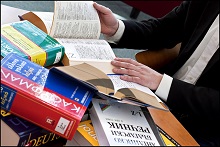 Whether or not descriptions of products or services are correctly translated is a critical issue for a company seeking international sales channels. Since accurate and appropriate translation is indispensable to achieve effective localization, companies need to identify competent translators. Today, we look at the skills that competent translators possess.
1. High Language Skills
Translators are generally considered to have vast knowledge of a foreign language. But that is not the only skill demanded of them. Translators are demanded not just the skill to merely understand a foreign language, but also the skill to understand the deeper meaning of words and to phrase them in an appropriate fashion. This, in other words, is to understand the original text in terms of cultural and conceptual differences and to reconstruct them in the target language.
To hire translators of high linguistic potential as mentioned here, Arc Communications only allows registration of those who have passed our strict Trial Exam that a mere 5% of applicants pass. We also rank our translators based on work evaluations and offer regular feedback, aiming to heighten their skills.
2. Skill to Translate Accurately Without Errors
The ability to translate without errors is a crucial aspect for a professional translator. Any errors in proper nouns or figures may cause fatal losses in business. Translators need to be highly attentive.
Arc Communications aims to eliminate translation errors by having proofreaders check the translation in detail, and by having translators redo the work if necessary. We minimize mistakes by undertaking such proofreading processes.
3. Ability to Translate with the Client and Users in Mind
Merely translating a given text does not make a professional translator. The ability to translate with the client and its users in context defines a professional translator of high competence.
This ability can be achieved only through advanced communication skills, communicating closely with clients and identifying their needs accurately. It is with this skill that companies would trust the translator as a business partner and entrust him/her with work projects.
Summary
In this age of internationalization, localizing products and services is a challenge for many companies. Getting hold of competent translators is a requisite to companies that eye global expansion. The key to successful globalization would be to know about the skills required of translators, as mentioned above
Related Services
To Contact Us Regarding Our Translation Services
For urgent needs, call:
+81-3-5730-6133