Five Key Points for Internationalizing Your Website
October 16, 2014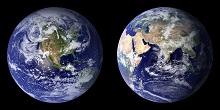 These days, Japanese businesses in various industries are looking for ways to make developments that will set the stage for their global expansion. This trend is likely to accelerate going forward, considering that Japan has seen a jump in the number of foreign visitors in 2013 and also won the bid to host the 2020 Olympics in Tokyo.
Simultaneously, more businesses are taking interest in the internationalization of their websites as an efficient advertising strategy. In this blog post, we will discuss five key points for making such websites.
1. Optimize Speed
Just because you can view your website without any problem via a broadband connection, that does not mean other people can access it with the same ease. Keep in mind that the speed of access to your website differs significantly depending on the user's Internet connection. Design your website so that it can be accessed and viewed the same way regardless of the user's connection speed.
2. Translate
Translating your website is one of the basic steps to making it ready for a global audience. But because the content is regularly updated, translating the entire website in detail will be very costly. Consider different approaches depending on your budget, such as translating only the important pages and including a link to a machine translation tool.
3. Use Social Media
Social media are essential for effective promotion of your website. However, you may find out that the situation in some countries is different from that in Japan. For example, Facebook and Twitter may not be as widely used, and people may use different search engines than those popular in Japan. As such, research needs to be done in advance.
4. Pay Attention to Color
Colors have different meanings in different cultures. For example, green is often associated with calmness and eco-friendliness in the U.S. But it has the image of greediness or that of pureness in other cultures. So exercise great care when choosing colors for your website, including those in images.
5. Localize Currencies
If the website you are updating for a global audience is an online store, then you need to localize currencies that can be used for payment. There are many application programming interface (API) tools available that can convert currencies or display exchange rates. We suggest looking into these APIs.
Summary
The impact of globalization has prompted many companies to make changes. Among those changes, redesigning websites to reach a global audience is one of the top priorities for all companies. We hope that you will take this opportunity to consider internationalizing your website, using the five key points we outlined above.
Related Services
To Contact Us Regarding Our Translation Services
For urgent needs, call:
+81-3-5730-6133