Aspects and Challenges of Video Game Translation
December 8, 2014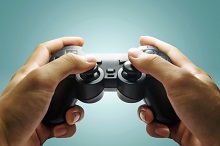 As globalization spreads, the race to sell Japanese video games in overseas markets is ramping up. Game localization is an essential part of this process, but there are unique difficulties in video game localization that differ from translating texts and documents. In this article we will look at some of the challenges specific to video game translation.
The Idiosyncrasies of Video Game Translation
Translating video games can require more advanced skills than translating manga or novels. The reason is that with video games, in addition to text you also have audio and visual components as well as game interface to deal with, so when translating you must also take into account aspects such as cut-scenes, dialogue, and game control.
Culture Gaps Can Hinder the Success of Game Translations
Besides advanced language skills, a video game translator needs to have in-depth insight into the culture of the country that produced the game. For example, in Japan a circle stands for the enter button, but in other countries this is signified by an "x". And adult characters with oversized-heads made in the "super deformed" style may be mistaken for children in countries unfamiliar with the style. Although such things may be common knowledge in Japan, the localization may not be successful if the translator does not understand such cultural differences.
Localization in the Face of Tight Budgets
In addition to the advanced skills expected of the translator, game localization faces the problem of tight budgets. Unless a sufficient budget is allocated for translation, the quality of the game will suffer. With an already tight game development budget, it is difficult to predict exactly how well the game will sell by spending money on localizing it to another language. This problem is not unique to the game industry: it applies to any industry.
However, with the popularization of online games in recent years, it has become much easier to gauge user reactions to localized games. As more data is gathered, it will no doubt help persuade game makers that effective localization will lead to higher sales and satisfied customers. And the demand and value of localization in game development is expected to rise in the future.
Summary
Video game translation demands advanced skills of translators. Besides language skills, the translator needs in-depth insight into the culture of the country that produced the game, and he/she faces unique challenges that differ from translating literature. Despite its difficulty, often not enough of the budget is allocated to localization - a problem faced by many video games. But there can be little doubt that high-quality localization makes for a better game. Our eyes are on the future of video game translation, which promises to increase in both value and effectiveness.
Related Services
To Contact Us Regarding Our Translation Services
For urgent needs, call:
+81-3-5730-6133