Languages With the Most Needs for Localization: English, Chinese, and Spanish?
April 4, 2016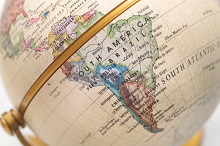 It is necessary to carefully choose targets and areas to develop products and services. Not to mention North America and Europe, the remarkable growth of China and other Asian countries in the recent years may see their rise as strong candidates.
How about Latin America, and especially its Spanish-speaking zone? Indeed, although Latin America is relatively known for soccer, flamenco and tango, it remains an unfamiliar area for most Japanese people. Anyhow, these are a region and a language that both seem to be gaining the favors of the business world.
Spanish is Spoken on a Surprisingly Large Scale
Spanish is spoken in the majority of Latin America countries, save for Brazil and a few others. Brazilians speak Portuguese, a language that shares many similarities with Spanish, so people can generally get by speaking Spanish in Brazil. However, Spanish varies depending on the region where it is spoken, be it in Spain, Latin America and its many communities. This can make localization a little tricky, so let's keep in mind these points.
As the most widely spoken mother tongue, Spanish ranks third in the world after Chinese and English. It has many speakers, rivalling with Chinese, English and Hindi languages, and also being used as one of the official languages of the United Nations. Also, in addition to the many people who are learning it along with English, the increasing American Hispanic population in the US makes it more and more influential.
Moreover, Spanish holds the third position as one of the most widely used languages on the Internet. In other words, localizing your company's website in Spanish would considerably increase its visibility.
Latin America - A Potential Growth Prospect
Latin America has experienced a remarkable economic growth which is expected to continue in the years to come. This can be said in particular about Brazil, the first amongst the four BRIC countries with such a continuous high growth, and a huge market with a large population, vast territory and abundant resources. Its relationship with Japan, and its long history with Japanese immigrants, is also an appealing point.
In the past, many other Latin American countries were affected by problems such as terrorism and inflation, but the situation has been improving gradually through security measures and economic policies. Further growth and industrial development can also be expected hereafter, because of the abundance in resources and working population.
A Different Route into the North American Market
On the one hand, the Hispanic population has been increasing regularly in North America. Particularly in America where, in the most populated state of California, the Hispanic population is expected to outgrow its "minority" status and start occupying the larger part of the American market.
In other words, websites localized in Spanish won't only reach Latina America but may also provide an access to the North American market, and especially its Hispanic population.
The chat/free call application, Line, best illustrates this case. Indeed, Line launched its Spanish version in 2012: using portraits of popular soccer players for "stamps" and broadcasting television commercials, they acquired over 18 million users in Europe, almost mainly in Spain. Further, by cooperating with the major Spanish telecommunications companies, it managed to make Line a standard feature in the Latin American smartphones. So by first getting Latin American users, and by using there presence as a foothold; they seem to be working toward attracting the American Hispanic population, too.
Summary
Spanish is spoken in many countries and is also being used extensively on the Internet. It is an important language that covers the whole of Latin America, and provides a foothold to the North American market, a point which cannot be overlooked.
This may sound somewhat alien to a Japanese person, but an advance toward the Spanish language and zone can have a great strategical significance, as it holds a place of choice as one of the most spoken languages, along with Chinese and English.
Related Services
To Contact Us Regarding Our Translation Services
For urgent needs, call:
+81-3-5730-6133