Shamrock: The Surprising Meaning of Ireland's Floral Emblem
February 13, 2017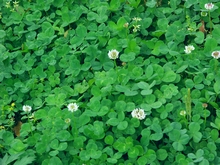 Hello again, Naho here. Stuck at work, I sometimes just zone out and start asking myself random questions, such as "what is happiness?" Some say that finding a four-leaf clover promises good luck and happiness, I wonder if it's true...
A shamrock is a young sprig of clover, also considered a national symbol of Ireland. Like in many other countries, shamrocks represent good fortune in Ireland. However, there are some other aspects to the story that are not as well known.
The Hidden Meaning of Shamrocks' Three Leaves
Also familiar to Japanese people, shamrocks often refer to different types of clovers, a flower that many of us have looked for in our childhood.
The shamrock is widely appreciated within Ireland as the country's national emblem. What may seem a little surprising to people from other cultures, however, is the fact that the Irish would choose the three-leaved shamrock over the so-called "lucky" four-leaved clover any day of the week.
The reason behind such popularity is that in Christianity, the religion of many Irish people, the shamrock is believed to represent the Holy Trinity. It is also said that St. Patrick, the patron saint who Christianized Ireland, used to preach to crowds while holding a shamrock.
Saint Patrick's Day - The Annual "Green" Festival
In Ireland, the cultural festival of "Saint Patrick's Day" is celebrated every year on 17 March, on the death anniversary of Saint Patrick. On that day, people often wear green attires decorated with shamrock motif, and also attend church services.
Throughout the few days of celebrating Saint Patrick's Day, a busy festive atmosphere is always observed in Ireland's capital city Dublin, where large-scaled parades and concerts are held, attracting a surge of visitors from all over the world. Conventionally, people show up in green outfits with accessories of the same color. To make it even more extraordinary, the shops and company offices on the streets would also be extensively decorated in green. Even for these unique details alone, Ireland's Saint Patrick's Day is definitely worth a visit.
The Origin of the name "Shamrock"
It is said that English word "shamrock" comes from Gaelic "seamair," which means "clover." It is true that "shamrock" usually refers to different types of clovers, however, it is also considered to be a common name for three-leaved plants such as Medicago polymorpha (California burclover) and Oxalis corniculata (the creeping woodsorrel).
In Japan, shamrocks are called "shirotsume-gusa", or also by the transliteration of "clover".
To Irish people, the shamrock is seen as a symbol of happiness and good fortune, hence some couples exchange shamrocks at weddings, and mothers also tend to give shamrocks to their children as a good luck charm.
Related Services
To Contact Us Regarding Our Translation Services
For urgent needs, call:
+81-3-5730-6133