Translation Saves Lives! The Importance of Medical Translation Stands the Test of Time
December 12, 2014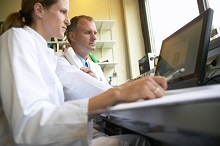 The medical world is constantly evolving. Across the globe new drugs and medical devices are being developed, and new research findings are announced almost daily . Although the fields of medicine and translation seem to be unrelated at first glance, in reality they are inseparable. It is not an exaggeration to say that translation drives medical advancement. This is why the high-demand, recession-proof field of medical translation has gained renewed attention. In this article we will delve into the reasons why medical translation is recession-proof as well as other issues the field faces.
The Wide-ranging Field of Medical Translation
What we refer to as medical translation actually covers a diversified range of areas. The three that are presently in the highest demand are: academic, pharmaceutical, and medial device translation.
The first one, academic translation, specializes in academic medicine. Examples include translating research papers written by Japanese physicians into English, and articles published in other countries into Japanese for publication in Japanese medical journals.
Next is pharmaceutical translation, which specializes in drugs. This area mostly deals with research data on drugs and clinical trials as well as new drug applications. Examples include Japanese translations of research data on new drugs developed in other countries, new drug applications for those drugs, and translations of clinical trial data.
Lastly we have medical device translation, which is needed when a medical machine manufactured in another country is released in Japan, and when selling devices made in Japan to another country. It mostly consists of translating product catalogs and user manuals. There are also other areas that do not fit into the above categories such as quasi-drugs, cosmetics, biotechnology, and dietary supplements.
Rising Demand Despite Recession
>As it was briefly touched on above, the demand for medical translation is relatively constant. Because medical care is inseparable from our lives, translation services in the field are always needed.
Due to its high demand and resistance to recession, orders for translations in the medical field did not drop during the recent 2008 global financial crisis. Since it stands the test of time and is not impacted by economic conditions, it is a very attractive field for translators.
Challenges in Medical Translation
Because of the high demand and promise of the medical translation field, many translators from other fields consider moving to it. However, medical translation is far from easy. It requires considerable knowledge and skills.
First of all, the translator needs to have extensive expertise in their respective field. In academic and medical translation, this means knowledge of medicine, pharmacology, and chemistry. For medical device translation, knowledge in information technology is also needed. Some fields require expertise in a wide range of areas including biochemistry, genetic engineering, and physics. Most importantly, medical translation is a field where there is no room for error: a mistake in a translation can potentially put lives at risk.
The job requires more than a high level of specialized knowledge, however. To be a successful medical translator, you need advanced language skills to able to translate both ways. English to Japanese translation skills are required when a new drug, research paper, or medical device from another country is released in Japan, while Japanese to English translation skills are needed when a Japanese company is looking to expand sales of new drugs and medical devices into foreign markets. At present demand for Japanese translations is somewhat higher than for English. But if expansion of Japanese medical technology into foreign markets increases, translators who can skillfully translate both ways will be in high demand. However, at the moment, there are not enough translators who can translate into either language.
Summary
Medical translation is a promising field that enjoys consistently high demand regardless of economic conditions. However, the road to success is very steep. While it is difficult, if you can gain the necessary knowledge, and develop the translation skill level demanded by clients, an opportunity to accomplish very meaningful work awaits. More than anything, translating in a field that involves peoples' lives surely outweighs the difficulties.
Related Services
To Contact Us Regarding Our Translation Services
For urgent needs, call:
+81-3-5730-6133