Localization of Company Newsletters for Global Companies
February 23, 2015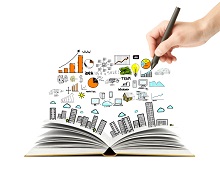 Global companies with large numbers of employees across various countries and cultural regions tend to experience problems with regard to consistency of purpose and information gaps.
The appropriate localization of company newsletters offers an important way to address such problems.
Active use of a company newsletter aimed at internal and external stakeholders can be part of a successful global PR strategy.
Localization of Company Newsletters is Essential for Global Companies
At first glance, company newsletters cannot be seen as absolutely essential, and companies that are tough on costs might regard them as the first item of advertising expenses to cut. But company newsletters serve not only to promote the company's values and business policies; depending on the planning that goes into them they also serve to enhance employees' sense of solidarity with each other and motivation for their work. On this point, it is fair to say that international companies that engage employees embracing diverse cultural values might realize the true value of company newsletters more than would domestic companies that operate within a single cultural region.
For example, suppose that at a certain factory, the workers do not know what the product they make is used for. Not knowing why they are making it would probably make it difficult for them to see value in their work. Knowing that it was a component for, say, a luxury car or a Japanese electronic product would probably make them view their daily work differently. It would probably strengthen their motivation, enhance their sense of loyalty to the company and be effective in reducing employee turnover.
Company Newsletter Localization Tip No. 1: Decide on Your Target Audience and Objectives
The first thing to discuss about localizing company newsletters is the target audience. The readership of a company newsletter is not limited to the employees. They are distributed not only to overseas employees, but also to overseas shareholders and related companies such as subsidiaries. Sometimes domestic employees who come from other cultural regions also form part of the target audience.
Granted this, simply translating a company newsletter aimed at domestic employees is meaningless. Given that the content could invite misunderstandings on the part of readers who do not have much understanding of Japanese culture, we should consider the possibility that proceeding in an unplanned way might be counterproductive. For example, if content reflecting common Japanese attitudes to gender and sexuality were translated in an unthinking way, the company could expect to incur an adverse reaction from its employees in Western countries.
It is important first of all to be conscious of the cultural understanding of the target audience and their workplace environment, and to put oneself in the audience's shoes. The ideal approach is to plan the content to suit the target audience and the objectives. As noted above, letting employees know about the downstream relevance of their work is an effective approach, and giving employees the chance to have their say in various ways helps to create a sense of connectedness.
Company Newsletter Localization Tip No. 2: Utilize the Internet
There are a great many benefits to be had from posting the company newsletter on the Internet. First, it reduces printing costs. Next, it enables updates to be made in real time. Since the timing of updates is easily controlled, they can be sent out to multiple locations simultaneously. Also, amendments and corrections can be posted very quickly and easily. But the greatest attraction of the Internet is that, depending upon the content, it facilitates two-way communication. There are many ways this can be done, such as the company asking readers to submit questions, and posting content in bulletin board form.
So the Internet does not just offer a cost solution; depending upon how skillfully it is used it can enhance the value of the actual content.
Summary
Having people from different cultures working together in one company is a wonderful thing but at the same time it entails various difficulties. While a company newsletter on its own is not a sufficient condition for resolving these difficulties, it should be seen as a very important necessary condition for maintaining high employee motivation in global companies. Localization should be used judiciously to activate global business in a sound way, and to heighten the job satisfaction and corporate understanding of overseas stakeholders.
Related Services
To Contact Us Regarding Our Translation Services
For urgent needs, call:
+81-3-5730-6133