Number of Malaysian Tourists Increases Following Visa Policy Relaxation: Learn Some Interesting Facts about the Malay Language!
August 3, 2015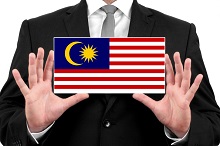 Overseas tourist arrivals to Japan have been growing. The number of travelers from Malaysia, in particular, is rising sharply, with 120 thousand Malaysians having visited Japan in 2013, up 30 percent from a year earlier. The country boasts one of the largest English-speaking populations in Asia, but its national language is Malay. It is not a familiar language to most Japanese, but in fact Malay is one of the easier languages to learn for Japanese people. The demand for the language is likely to go up, so why not take this opportunity to study some Malay?
The 40 Year Anniversary of ASEAN-Japan Friendship and Cooperation
The year 2013 marked the 40th anniversary of the friendship and cooperation between ASEAN and Japan. The Japanese government announced on the occasion to waive visa requirements for short-term visitors from Malaysia, a change that took effect in July 2014. The relaxed visa program is likely to have a profound impact, triggering an upsurge in the number of Malaysians visiting Japan for sightseeing and for business.
In 1981, Mahathir bin Mohamad, then prime minister of Malaysia, launched the Look East Policy, which aimed to emulate the economic growth of Japan and other developed Asian economies. Thanks partly to that policy, people of Malaysia are friendly to Japanese. The recent popularity of J-Pop and Japanese culture has amplified their interest in Japan, inspiring many to dream of one day visiting our country. And the latest visa waiver represents a great opportunity to make their dream come true.
The Properties of Malay, an Easy Language for Japanese to Learn
Few language schools in Japan teach Malay at present. It would hardly occur to us to study it because we would be hard-pressed to find a school that offers a Malay language course. It is, however, one of the easier languages for Japanese people to learn. If you speak Japanese, try studying on your own and you will find that you can teach yourself to communicate in basic Malay with relative ease.
One of the properties of the Malay language is that it has no verb tenses, such as the past and the present tenses. Temporal positioning is either inferred from context or expressed by words that indicate tenses, such as "last night" or "three days ago." You do not have to learn different verb forms in Malay as you would in English.
Another welcome aspect is that Malay has no articles, which many Japanese have trouble with, nor does it have the distinction of singular and plural noun forms. Just learn some frequently-used vocabulary, then put them together and you will be able to communicate, albeit in a very simple way.
Opportunities to Put Your Malay into Use
We study a foreign language to use it, and using it leads to further improvement. Your Malay will surely come in handy when you happen to meet some Malaysian tourists, who are increasing in number in recent years. If you want to gain exposure to authentic Malay, however, then there is no better way than going to Malaysia. Malaysia, which allows foreign visitors a stay of more than 90 days, is a very popular long-stay destination. There are now programs to study English in Malaysia. As a multiethnic society, the country is widely recognized as a perfect place to learn multiple languages, including Malay, English, and Chinese, as well as to experience various cultures. Studying Malay may open up new possibilities or provide more choices for you in the future.
What is more, Malay is very similar to the Indonesian language. Master Malay, and you will be able to communicate not only with Malaysians but also Indonesians.
For starters, learn some words of greetings and practice them so they will roll off your tongue when you want to use them!
May name is Hanako -> "Nama Saya Hanako" (Nama saya hanako)
Thank you -> "Terima kasih" (Teri makashi)
Good bye! ->"Jumpa lagi!" (Junpa ragi!)
Related Services
To Contact Us Regarding Our Translation Services
For urgent needs, call:
+81-3-5730-6133