Creating a Japan Boom with the Help of a Localization Subsidy Program
August 10, 2015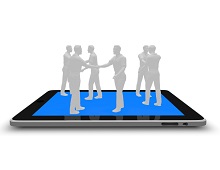 The government's COOL JAPAN strategy and the 2020 Tokyo Olympics are helping to promote the wonderful aspects of Japanese culture and technology to the rest of the world. The spotlight isn't just on industrial products but everything from Japanese food, lifestyle and fashion to traditional artifacts.
Localizing Japanese culture or Japanese media contents for international markets takes much money and know-how. This article will focus on the program that offers a solution to such needs: the Government Subsidy for the Localization & Promotion of Japanese Visual Media (J-LOP).
What is the Government Subsidy for the Localization & Promotion of Japanese Visual Media (J-LOP)?
The Government Subsidy for the Localization & Promotion of Japanese Visual Media (J-LOP) is a program that aims to raise international awareness about Japanese media contents by helping to fund localization and promotion activities. The subsidy supports the localization projects of, among others, videos, films, anime, TV programs, and digital comics produced for the Japanese market. Specifically, it will cover up to 50% of the approved expenses for activities that include subtitling, dubbing and translation; research on various rights in the target markets; and legal expenses associated with international agreements.
The program also supports promotion activities, covering up to 50% of expenses spent on PR activities and promotional events. Subsidy recipients can also rely on assistance from the Japanese diplomatic establishments in the target countries.
To apply for the subsidy, you must register and submit an entry online before presenting a set of required documents for review and approval. The selection process of the localization subsidy will focus on the candidate product's potential to appeal widely to international audience; the key factors considered in selecting the promotion activities subsidy recipients are the project's effectiveness of contents use and its connections and partnerships with international and domestic businesses and industries.
Current Issues in Localization and Expected Outcomes of J-LOP
Too often, creators or companies have had to give up localization due to lack of funds, or rely on low-cost translation services that delivered poor quality work. Bad translation can cause misunderstandings and fail to convey the intended meaning or information.
With funds from the program, these creators or companies will be able to improve the quality of localization for their products. High-quality localization helps to ensure Japanese culture is accurately understood and appreciated by overseas audience.
Support from local embassies and other representatives ensures that the program participants would be in a better position to obtain local information, build networks, promote their work, and reach a greater number of people in an effective manner. Hopefully, all this would generate more interest in Japan around the world, boosting business, tourism, and international exchange activities.
The Pitfall in the J-LOP Program
While we acknowledge that the ultimate goal of J-LOP is to achieve positive economic effects through creating a Japanese culture boom overseas, we should always maintain a broad, global perspective and not be fixated on the benefits for Japan alone. Those preoccupations, along with aiming at national profits with total disregard for others, will only prove counterproductive. First and foremost, we should strive to have the rest of the world appreciate the real Japan. Inspire an interest in our culture and encourage people to enjoy the contents. Never lose respect and concern for people of other cultures. Any economic benefit that may arise as a result is a welcome, but not expected, bonus.
Summary
The J-LOP program will accelerate the export of Japanese media contents overseas. We can look forward to seeing a growing number of wonderful Japanese contents reaching the audience abroad as creators and companies take advantage of the program. On offer are financial aid designed to enhance the quality of localization and the support scheme of overseas diplomatic missions. There is nothing to gain from a self-serving, disorganized campaign; let's stir up a truly internationally-oriented Japan boom that people outside of Japan would be happy to be a part of!
Related Services
To Contact Us Regarding Our Translation Services
For urgent needs, call:
+81-3-5730-6133