In the Spotlight: Community Interpreters Helping Foreign Visitors in Tourist Sites
August 17, 2015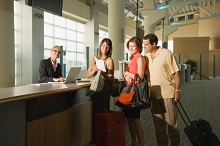 Thanks to the Visit Japan campaign aimed at increasing international visitors to Japan and the COOL JAPAN strategy, the inflow of non-business foreign visitors is growing. While business persons can usually rely on interpreters to assist them with their communication needs, tourists are left to their own devices. Yet getting around in a country where you do not speak the language can be more challenging than you may think.
To help visitors in need of support, an increasing number of popular international tourist sites and attractions in Japan have started to provide "community interpreters." Let's take a close look at the work of community interpreters, who are quite literally saviors for the non-Japanese speaking visitors.
What Does a Community Interpreter Do?
Unlike business interpreters, community interpreters provide support to foreign visitors in all aspects of life, including everyday issues. When the visitor gets sick, for instance, or needs information on Japanese culture or is unable to eat certain types of food for religious reasons, the community interpreter is there to help. With long-term visitors, they may assist with the paperwork at public offices and provide support with housing, employment, and education . As you can see, community interpreting is a work encompassing a very broad range of fields.
Community interpreters working in and around tourist sites must be knowledgeable about the history and heritage of the area, and be familiar with information on things like hotels, shopping, transportation, and hospitals. For this reason, community interpreting is often performed by local residents with sufficient foreign language proficiency to do the job.
The Importance of Community Interpreting
Just think about the difficulty of living in a country where you cannot speak the language and you can easily appreciate the importance of community interpreters. Suppose you get sick and need to see a doctor; you wouldn't even know where to seek medical help if you don't know the words to ask for the information. You might also be worried about how much a doctor's visit would cost. At times like these, what could be more encouraging than to have a hospitable interpreter who speaks your language next to you?
You need not be facing a trouble to speak to a community interpreter. Meeting and connecting with the local people is one of the most exciting aspects of travel. People can come to understand each other despite cultural and language differences through lots of communication. In this respect, community interpreters are the public face of Japan and crucial to how international visitors perceive our country.
Issues with Community Interpreting
Although community interpreters are no doubt making positive contributions in various scenes, the job is currently performed mainly by volunteers and generally lacks formal quality standards. It is not always clear who is responsible when problems arise, which is a cause for concern both for the service user and the service provider.
To address these issues, training courses are now offered to improve the quality of community interpreting, and a growing number of organizations have started to assess the language proficiency and interpreting skills of potential interpreters.
Future challenges include establishing clear guidelines and policies on problem reporting and resolution, identifying the means to meet interpreting needs in situations that require highly technical expertise, and clarifying the division of roles between professional and community interpreters.
Summary
Community interpreters play a very important role in supporting foreign visitors who are unable to speak the language of the country in which they are staying. As the number of foreign visitors to Japan increases, there will be growing opportunities for eager and helpful community interpreters to provide this valuable service. To protect and promote the interests of both international visitors to Japan and community interpreters, a strong support system to ensure quality community interpreting is called for, now more than ever.
Related Services
To Contact Us Regarding Our Translation Services
For urgent needs, call:
+81-3-5730-6133