Surge in Foreign Workers Employment in the Construction Industry! What New Translation is Necessary?
July 4, 2016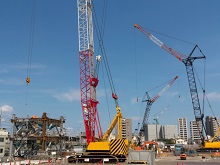 Beginning in 2014, the scope of acceptance of foreign workers has expanded in light of preparation for the 2020 Olympics and support for earthquake recovery. The focus has first been placed on the construction industry. In order to make up for the labor shortage, the period of stay has been lengthened for foreign workers who have completed the requisite training programs. It is likely that translation will be required to accept foreign workers and operate business smoothly.
What Does This Expansion of Acceptance Involve?
This expansion of acceptance takes the form of a change to the Technical Intern Training Program. In the past, interns worked while learning skills in a specified occupation, such as construction, agriculture, and sewn products manufacturing, allowing them to stay in Japan for up to three years. The change will enable qualified individuals to stay for an additional two years of work after their training is completed, for a total stay of five years. Individuals who temporarily return to their home countries before coming back to Japan can stay for up to three more years, for a total stay of six years.
The current changes apply to the construction industry, which is experiencing a severe labor shortage. In the future, expansion to other occupations and an increase in the number of workers accepted by companies is to be expected. It is also anticipated that acceptance of foreign workers will expand in the near future in the caregiving industry and the area of housework assistance, where there is a shortage of workers as is the case with the construction industry.
Problems with Acceptance of Foreign Workers
A variety of problems arise when accepting foreigners as part of the workforce, because of differing languages, cultures, and customs. For example, in many cases, labor conditions of foreigners in lower hierarchical echelons such as interns are currently lower than those of Japanese people doing the same job. In some cases the labor conditions have not been made clear, and workers are forced to engage in harsh work for long hours and low wages. There are also cases in which the workers have almost no days off, and they are half compelled to give their employers their passports and bank passbooks. There also appear to be incidents in which workers are made to sign documents written in Japanese that they don't understand.
Furthermore, there has been an increase in the number of instances in which foreign laborers have not been given a sufficient explanation of the details of their jobs or the proper use of machinery, or enough education in work safety. This has created dangerous circumstances, leading to a large number of heartbreaking accidents that result in injury or death.
Moreover, an insufficient understanding of Japanese culture and customs has sometimes created problems between foreign workers themselves, and between foreign workers and members of the local community. There have been many reports of problems with members of the community caused by being loud late at night, not properly recycling, parking cars where they shouldn't be parked, etc.
Solving these Problems
1. Clear indication of labor conditions
To solve these problems, it is necessary to improve the training program and related laws. First, at a bare minimum, it is necessary to properly translate documents that clearly indicate the labor conditions, making it possible for both the foreign worker and the accepting organization to check the contents and come to an agreement. Moreover, it is important that all documents that require the worker's signature be translated. This will assist in preventing a foreign worker in a vulnerable situation from being placed - without knowing - at a disadvantage.
2. Translation of job details and safety trainings
Labor in the construction industry involves dangerous work, such as the use of a variety of materials, tools, and machinery, and working at high places. To ensure work safety, the translation not only of work procedures but also the names and parts of machinery, their proper use, safety procedures, and such, is critical. This is important not only for the protection of foreign laborers doing the work, but for coworkers as well.
3. Support related to differences in culture and customs
There have been many cases in which problems have arisen due to a foreign worker not understanding the Japanese culture and customs, and behaving in accordance with the customs of his or her own country. Such problems can be reduced by providing translations of information related to the basic customs and cultural aspects required for life in Japan, teaching them what is proper in certain situations in Japan. In addition, providing members of the local community with information on the foreign workers' countries and customs should also be helpful in reducing misunderstandings.
Translation of counseling services for problems and concerns, information on medical institutions, etc., is also necessary.
Summary
It is anticipated that, in the future, the acceptance of foreign workers in Japan will increase in many areas in addition to the construction industry. Translation is crucial to the accomplishment of work in safe and smooth conditions, of course, but also to ease the burden and unease some foreign workers may experience while living in a foreign country. Whatever the person's nationality, it is necessary to aim for an environment in which everyone can work safely and comfortably. The role of translation in accomplishing this will become even more important.
Related Services
To Contact Us Regarding Our Translation Services
For urgent needs, call:
+81-3-5730-6133