The Benefits and Drawbacks of Temporary Translator Staffing Services
July 11, 2016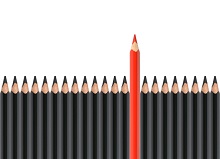 There are two options available when translation is necessary: requesting translation by a translation company, and temporary translator staffing services. Each of these options has its benefits and drawbacks. There are a variety of elements related to translation that should be considered, such as the frequency of translation, the contents, the budget, and the required level of quality. It is best to choose the optimum method for those needs. This requires an understanding of the characteristics of translation companies and of temporary translator staffing services.
Benefits and Drawbacks Related to Quality and Process
In the case of a medium/long-term project that requires translation, it would be worth considering the use of staffing services. In this case, a specific translator continues working on site, so he or she gains a deeper knowledge of the company's unique terminology, etc.; thus making it possible to expect flexible services. The company is able to give detailed instructions to the translator without going through an intermediate company, enabling timely translation even when there are changes in the project. For such reasons, using a temporary staffing service would likely be most efficient for the translation of marketing, PR materials, etc.
On the other hand, the use of a translation company means that multiple people will be involved in a translation project in addition to the translator, including proofreaders and native speakers checking the text. Doing so can be more expensive than using a single temporary staff member, but it makes it possible to maintain a stable level of quality since the translation passes in front of many different eyes.
Benefits and Drawbacks Related to Delivery Time
One of the most significant benefits of using a temporary staffing service is that the translator is always nearby, onsite, enabling an efficient use of time. Utilizing a translation company starts with getting an estimate, and involves other work such as the communication of concrete requirements, sending terminology lists needed for the translation, and other tasks. The actual translation work cannot be started until these tasks have been completed.
With a temporary staffing service, the time and effort placed in making a request can be reduced, making it possible to allocate the maximum amount of time to the translation itself. However, in the case of large translations with short delivery periods that can't be handled by the onsite translator alone, it would be more realistic to make a request to a translation company that would be capable of accommodating a flexible time frame. Translation companies have the resources and expertise that make large projects with short delivery periods possible, including providing services on weekends, having a pool of translators, and using translators living overseas. It is advisable to skillfully differentiate your use of each, for example by using a temporary staffing service for daily translation and a translation company for large projects with short delivery periods.
Benefits and Drawbacks Related to Cost
The cost is also a major point in determining whether to use a temporary staffing service or a translation company. Temporary staffing service use contracts based on an hourly rate, so the cost could be comparatively high or comparatively low depending on the project. It is also possible that, despite arranging for a temporary translator for an urgent translation, there will be a lot of free time after the workload peak has passed. Before submitting a request, it might be best not only to consider the continuity of translation, but also specifically to what extent the work can be assigned to a single translator.
On the other hand, translation companies calculate the cost based on the number of characters or words in a source document. In some cases it is more expensive than a temporary staffing service, but it has the advantage of a stable level of quality through multiple people working on the projects, the ability to accommodate short delivery periods, and an abundance of options, including DTP.
Select Services on a Case-by-case Basis
A variety of things are asked of translations, such as wanting to focus on quality even if it is more expensive, or needing rapid translation that can keep up with repeated changes. Understanding the benefits and drawbacks of translation companies and temporary translator staffing services, and using each wisely, is likely to result in the ideal cost-performance.
Related Services
To Contact Us Regarding Our Translation Services
For urgent needs, call:
+81-3-5730-6133