The Setting of the Movie "Persona Non Grata" - Lithuania and its Language
January 16, 2017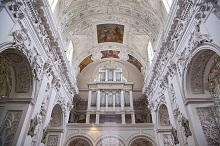 Hello. I am Yucchi, a fledgling translator who transferred last autumn from a different field. I've only just started in translation so I have much to learn, but I'm studying hard with the help of my seniors.
A movie titled "Persona Non Grata" ("Sugihara Chiune" in Japanese) was released in Japan in December 2015. Perhaps due to this, I feel that I hear this diplomat's name quite often recently. Looking him up, I found that he was a deputy consul in the Embassy of Japan in Lithuania during the Second World War. He is known for having issued visas for many Jewish people fleeing the Nazis, and is therefore also known as "Japan's Schindler." I found this relationship between the two countries interesting and did a little research on Lithuania.
Lithuania's Past and Present
According to the Ministry of Foreign Affairs, Lithuania is situated to the east of the Baltic Sea, and is the southernmost of the Baltic states. Around it are countries like Russia, Belarus, and Poland. The capital of Lithuania is Vilnius, the population is around 2.939 million, and the language spoken is Lithuanian. It was under occupation by countries such as Poland and Russia, but declared its independence in 1990. Lithuania has membership in the WTO, NATO, and the EU. It also caught the public eye when it adopted the Euro currency in 2015.
Additionally, according to japan.zdnet.com, Lithuania is advanced in IT and high-tech areas, with many entrepreneurs in this field. One factor behind this is the high percentage of math and science university graduates which contributes to the abundance of skilled labor. Another contributing factor is an environment with a well-made system that encourages entrepreneurship in various ways.
Next, I looked into Lithuania's relationship with Japan. According to the Japan Center for Asian Historical Records, Sugihara Chiune, introduced above, was appointed to a post in Kaunas in Lithuania during the Second World War. At the time, persecution against the Jews was escalating, so Sugihara made his own decision to issue transit visas to Japan in order to save them. He continued to issue visas until the very end of his term in Lithuania, and saved at least 6,000 Jews from persecution.
Facts about Lithuania
The Lithuanian Language
According to the website Baltic Asia, the Lithuanian language is one of the Indo-European languages. It has changed little over time, and is said to maintain the oldest linguistic characteristics. Lithuanian grammar is extremely difficult; for example, singular nouns and plural nouns each have seven grammatical cases. The written language uses the Latin alphabet, with 23 letters from Latin and 9 letters with special symbols. It looks like learning Lithuanian will take much perseverance. Generally, each letter represents just one sound, so the letters without special symbols can be read like normal English.
According to the EU website, Lithuania is a member of the EU, and Lithuanian is one of its 24 official languages. Because the EU has a multi-lingual policy, the EU website can also be read in Lithuanian. According to the website by Mumyosha Publishing, the Lithuanian language can be considered a brother to Latvian, and a cousin to Estonian.
Business in Lithuania
According to kwintessential.co.uk, Lithuania still has a class-conscious culture, so showing good manners to superiors is considered important. Additionally, Lithuanians like to turn business relationships into friendships. If you receive hospitality, you should give back the same, and this will be considered a sign of friendship. Once you are on friendly terms, it becomes easier to do business together.
The Ever-Intriguing Lithuania
I did not know much about Lithuania, but I was happy to learn that there are still people in Lithuania who are interested in Japan as a result of Sugihara Chiune saving many Jewish people.
It was new and interesting for me to learn that Lithuania today has a strong high-tech industry and entrepreneurial spirit. Now that I have learned the many attractions of the Baltic States, I am even more interested in going there.
Related Services
To Contact Us Regarding Our Translation Services
For urgent needs, call:
+81-3-5730-6133