Lavender: The Reasons Behind the Popularity of Portugal's Floral Emblem
January 23, 2017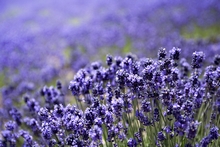 Hello again, Naho here. Sometimes when I get tired from working, I'd just like to sink into an ocean of relaxation. Lavender essence oil comes very handy in this kind of situation, a few drops in the bathtub, or on a steamed towel for facial care , it makes the best cure for stress and fatigue.
Lavender is the floral emblem of Portugal, and, in fact, my personal favorite method of using lavender oil in the bath has been practiced in Portugal for a very long time.
Beloved by Roman People: the Pleasant Aroma of Lavender
The first encounter between lavender and the Portuguese traces back to Ancient Rome. Lavender was known as a type of medicinal herb at the time, and roman people, who enjoyed going to the thermae, loved to add lavenders to their baths to enjoy their pleasant, relaxing aroma. It is also said that the academic name for lavender, "lavandula," comes from "lavare" - Latin for "to wash."
Despite being tolerant of cold weather, lavenders are susceptible to high temperature and humidity. During the rainy season in Japan, constant ventilating is required. Compared to Japan, it is warmer in Portugal throughout the year, and therefore extra care has to be taken. I heard that particularly during the rainy season of March through May, lavenders are carefully cultivated in greenhouses in Portugal.
Going an extra mile to overcome an unfavorable environment really demonstrates genuine love for the flower, and also shows the typical Portuguese enthusiasm.
A Special Component with Relaxing Effects
What gives lavenders such delightful aroma is the oil contained in their light purple flowers and long, slender leaves. It is simply called "lavender oil," and is often used as a natural aromatic in bathing products, cosmetics, and perfumes.
The fragrance of lavenders brings an unrivalled sense of relaxation. This is because it contains an abundance of linalyl acetate, a substance that has a sedative effect.
Other than that, the element of linalool is also effective for disinfection, making lavenders a perfect remedy for acne and scalds - which explains their long-lasting popularity as a medicinal herb and cosmetic product.
Slightly Unexpected? The Hidden Message of Lavenders
Perhaps because they bring such a relaxing effect, one of the meanings of lavenders in floriography is "silence." Also, somewhat surprisingly, they have another meaning of "distrust," which is said to have stemmed from the intense, unmistakable aroma of the flower.
Why lavenders are capable of generating such strong fragrance used to be a mystery when there wasn't enough advanced scientific research on it - maybe that's what gave the flower such inexplicable charm. Today, however, with its secrets unveiled, "distrust" eventually turned into "faith," and lavenders became broadly appreciated for their various uses, such as in deodorizers and as an edible flower.
Related Services
To Contact Us Regarding Our Translation Services
For urgent needs, call:
+81-3-5730-6133